Casey Marie Hall



Ring Name:

Casey Marie

Height:

5'7

Weight:

118 lbs

Born:

December 1, 1993 (Age 18) Chuluota, Florida

Billed From:

Miami, Florida

Resides:

Tampa, Florida

Trained By:

Scott Hall


Kevin Nash


Sean Waltman


William Regal

Debut:

April 10, 2012 (Smackdown)
Early Life
Casey is the second oldest child of Scott Hall and she wasn't every close to him growing up. He and his friends taught her to Wrestle when she was growing up which she liked but when she was 12 he gave up Guardianship over to William Regal. At first Casey was unsure but as she got older she thought of William more like a father than Scott and even started calling him dad. William even taught her to Wrestle as well
Wrestling/Referee Career
Casey along with her adoptive sister Libby Matthews started refereeing around the Indy's there they met Scarlett Benjamin. The three of them became fast friends. They wrestled and Refereed at all the shows together. While working at a show the three of them ran into Chelsea Benoit at one show with Chelsea wanting to sign them to WWE Contracts saying that 'The WWE needs referees that are not pussies and not scared to take a hit or two.' Like Libby Casey wanted a Wrestlers Contract as well and Chelsea happily agreed to give her one.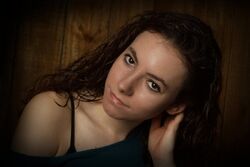 On April 10th Casey debuted on Smackdown under Casey Marie and refereed the 6 Person tag team match. On the April 18th Edition of NXT Casey refereed the
Cecilia Galloway
vs. Maxine match for Libby because William didn't want Libby attacking Maxine. Darning the match Casey mostly had trouble with Drew interfering in the match since Derrick Bateman was on commatary but did her job well. After Maxine won she refused to raise her hand which she was forced to. When Maxine was forced to be Johnny Curtis's manager she laughed her butt off then went to the back. She was also seen in the back laughing with Libby after Maxine and Johnny got handcuffed to each other.
On the April 23rd Edition of Raw Casey refereed the Chelsea/Joslin Neidhart vs Beth Phoenix/Lauren Kocianski match. Which Chelsea and Joslin won. She then refereed the Whitney Hart/Selene Hart vs. Lindsay Hager/Lira Santiago match which Whitney and Selene won that match.
Personal Life
Casey is the oldest daughter of Scott Hall and the second oldest child overall. Since giving her to William Regal Casey hasen't had contact with her family at all.
Siblings: Cody Hall (Brother), Cassidy Hall (Sister), Libby Matthews (Adoptive Sister), Daniel Matthews (Adoptive Brother), Dane Matthews (Adoptive Brother), Bailey Matthews (Adoptive Brother)
Family Members: Scott Hall (Dad), Dana Burgio (Mom), William Regal (Adoptive Dad), Christina Matthews (Adoptive Mom)
Finishing Moves
Casey's Edge (Crucflix Powerbomb)
Sleeperhold
Casey Factor (Sitout Facebuster)
Entrance Music
Getting Away With Murder by Papa Roach
Twitter Account
Casey's Twitter account is @CaseyMarieH The H stands for Hall but she doesn't want people to know about that. She mostly posts updates.