Eliza Victoria LoMonaco



Ring Name:

Eliza

Height:

5'4

Weight:

116 lbs

Born:

January 6, 1990 Queens, New York

Resides:

Orlando, Florida

Billed From:

New York City, New York

Trained By

Bully Ray


Devon


AJ Styles

Debut:

February 10, 2011
Early Life
Growning Up Eliza wanted to be a wrestler just like her dad so after high school she started training at the Team 3D Academy with fellow Knockout Lakeisha Davis-Hughes. Though Eliza joined TNA Just months after Lakeisha.
Wrestling Career
When Eliza debuted for TNA She became the on Screen Protegee of AJ Styles. There she learned as much as she could from him while accompanying him to ringside darning his matches. A couple weeks later she was named a member of Fortune.
In addition to being a member of Fortune Eliza is also a member of The Entourage created by AJ's wife Katie Borden. She along with Katie, Ally Copeland, Lakeisha Davis-Hughes, TNA Knockout Champion Ivory Williams and Lily Daniels. Despite being in both groups Eliza is mostly loyal to the Entourage.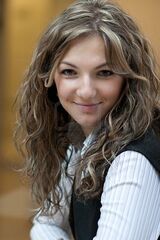 Eliza's first match was against Winter on the March 3rd edition of Impact which Eliza came out victorious in that match. She has yet to be defeated in Singles matches. Darning the Summer she followed around AJ Darning his feud with her dad even inserting herself in it a bit. While working her feud with her dad she was also and still is in a feud with Winter, Angelina Love and
Autumn.
She mostly watched Ivory's back but was in a singles match with Autumn and won.
At Bound For Glory in 2011 Eliza was one of the Knockouts who competed for the Knockouts title but did not win. Recently Eliza wasen't used unless it was for live events but on the August 2nd edition of Impact Wrestling Eliza defeated Madison, Lakeisha and Averylynn Sorensen to take on Ally for the Knockouts Championship at Hardcore Justice.
Personal Life
Eliza is the oldest daughter of Bully Ray and she loves him but also hates him despite what he's been doing. She is also very close with Lakeisha Davis-Hughes as the two are currently living together.
Finishing Moves
No Turning Back (Spinebuster)
Pele Kick
Spinal Tap
Tag Teams/Stables
Wrestlers Managed
Entrance Music
Take Back The Fear by Hail The Villain (Singles Theme)
Fortune Four (Gonna Change Some Things) by Dale Oliver (Fortune Theme)
High Voltage by Linkin Park (Entourage Theme)
I Am (Fourth Remix) by Dale Oliver (Used when Teaming with or going out with AJ)
Twitter Account
Eliza's Twitter is @CuteLiza25 and she mostly uses it for talking to friends and fans.