John Cena's Blaziken



Name:

Blaziken

Level:

90

Type:

Fire/Fighting

Species:

Blaze Pokémon

Height:

6'3

Weight:

114.6 lbs

Abilities:

Blaze


Speed Boost (Hidden Ability and Mega Blaziken)

Attacks:

Fire Punch


Hi Jump Kick


Blaze Kick


Sky Uppercut


Flare Blitz
Blaziken was John's Cena's first Pokémon that he got as a Torchic. When choosing a Pokémon, John saw potential in the young Pokémon so he decided to pick it. As a Torchic and Combusken, Blaziken was often hyper like his trainer but got serious when it was time to battle. As a Blaziken he's described as 'More serious than his trainer' Blaziken often hangs out with John's Pokémon or by himself due to him being shunned by being the face of the WWPE.
Mega Blaziken
Rumor has it that when John comes back at Hell In A Cell that Blaziken will reveal it's Mega Form when Facing Alberto Del Rio and his Pokemon.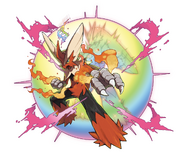 Rivalies
Over the years Blaziken has been in many rivalies with the other Pokemon. Sometimes his Rival's often turn into Friends. (More will be Added Soon)
Blaziken's Rivals
Randy Orton's Serperior (Main Rival, Rival Turned Into Friend, Friend Turned Into Rival)
Sheamus' Typhlosion (Rival turn into Friend)
CM Punk's Azurmaril (On again off Again Rival)
Wade Barrett's Ferailgatr (Rival darning the Nexus' Storyline)
Daniel Bryan's Gogoat (Rival darning Summerslam 2013)
Allies
Blaziken doesn't have much Allies due to him being the face of WWPE but he does have a few
Blaziken's Allies
Sheamus' Typhlosion
CM Punk's Azurmaril
Zack Ryder's Chesnaught