Lira Aida Santiago



Ring Name:

Lira Santiago

Height:

5'8

Weight:

125 lbs

Born:

March 9, 1985 (Age 25) Mexico City, Mexico

Billed From:

Mexico City, Mexico

Resides:

Tampa, Florida

Trained By:

FCW

Alberto Del Rio

Debut:

August 27, 2010
Early Life
Lira grew up in a poor family in Mexico City. While growing up she trained to become a professional wrestler so she could try to help her family out. Her big break came when she got an FCW Contract.
Wrestling Career
When Lira debuted for FCW she met Alberto and the two hit it off. While in FCW she started valeting for him and when he debuted for Smackdown she followed one week later.
When she debuted on Smackdown she contuned to Valet for Alberto but got in a rivalry with Kirsten McCool while Alberto got in a rivalry with Kirsten's husband Christian. Lira's Rivalry ended with Kirsten ended when Lira got drafted to Raw along with Alberto.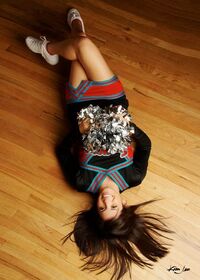 When Lira got drafted to Raw she continued to Valet for Alberto but has yet to have a match on Raw.
When Alberto left to heal from his Injury Lira followed along. When Alberto came back at Elimination Chamber so did Lira but that was for one night. When Alberto came back to confront Sheamus Lira came back as well and started a rivarly with Sheamus's sister Trinity Farrelly.
On the April 6th Edition of Smackdown Lira faced off against Joslin Neidhart with Trinity as the special guest referee. After the match which she won Trinity raised her hand then used the Brogue Kick on her.
Since failing to capture the Divas Championship (And on one occasion the Womens Championship) she's been standing by Alberto and Ricardo no matter what.and even turned face when they did. Since then she's been getting into Mischef with Alberto and Ricardo.
Personal Life
Since debuting in FCW Lira has been in a relationship with Alberto Del Rio. Lira also has some MMA Training under her belt.
Finishing Moves
Cross Armbreaker
Tilt a Whirl Backbreaker
Wrestlers Managed
Alberto Del Rio
Ricardo Rodriguez
Entrance Music
Run The Show by Kat Deluna (Feat. Don Omar) (Spanish Version) (Singles Theme 1)
Rain Over Me by Pitbull (Feat. Marc Anthony) (Singles Theme 2)
Goin' In by Jennifer Lopez (Singles Theme 3)
Realeza by Jim Johnson (Feat. Mariachi Real de Mexico) (Used when going out with or teaming with Alberto)
Twitter Account
Lira's Twitter account is @LiraSantingo and she mostly uses it to update fans and post pictures of her and Alberto.