Nicole Nancy Nash



Ring Name:

Nicole Nash

Height

5'8

Weight:

120 lbs

Born:

August 28, 1992 (Age 19) Detroit, Michigan

Billed From:

Detroit, Michigan

Resides:

Tampa, Florida

Trained By:

Kevin Nash


Scott Hall


Sean Waltman


Sting




Triple H


Shawn Michaels

Debut:

January 3, 2011
Early Life
Nicole is the oldest Child on WWE Legend Kevin Nash. Growing up she wanted to be a Wrestler just like him and his friends so she had him train her. While training her Nicole along with her friends Jackie Hall and Caitlyn Waltman had a couple of fallouts with Laura Cena and Carissa Hickenbottom. There the three decided to never be their friends. When Nicole was ready to join a promotion she decided to follow her dad in the WWE Instead of her Aunt Sylevette in TNA
Wrestling Career
Nicole Debuted on Raw on as a babyface defeating both Bella Twins. After that she went on an undefeated Streak Until Wrestlemania that year. After losing the Miss Wrestlemania battle Royal she went to FCW to further delevop her wrestling Skills.
She made her return at Summerslam attacking Alicia Brooks backstage. The next night on Raw she declared that someone texted her and told her to do it but Alicia did not buy it and attacked her thus starting a rivalry with her. After Alicia sprained her ankle Nicole was out for a couple of months. She returned at TLC and attacked Laura Cena after she won the Divas Championship match.
Personal Life
After seeing what her dad and Aunt, her Aunt's friends and her friends went though Nicole is 100% Straight Edge and is never hoping she would go through what they did.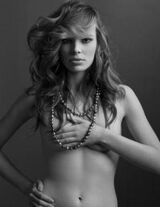 Parents: Kevin Nash (Dad), Tamara Nash (Mom)
Siblings: Tristian Nash (Brother)
Aunts/Uncles: Sylevette Nash (Aunt)
Finishers
Jackknife Powerbomb
Chokeslam
Walking Sidewalk Slam
Entrance Music
Bulletproof by 12 Stones (Singles Theme)
Twitter Account
Nicole's Twitter Account is @RealNicoleNash. She mostly uses it for Updates and to answer some questions on there as long as they don't get too Personal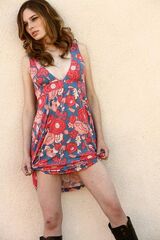 .